July 1, 2013 – June 30, 2014
Dairy Sponsors Nebraska School Activities Association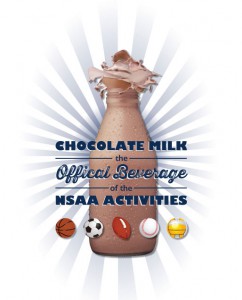 Midwest Dairy's Nebraska Division became a sponsor of the Nebraska School Activities Association (NSAA), making chocolate milk the official beverage of the organization. Materials and promotion supporting chocolate milk as a refuel beverage were provided to 450 Nebraska school administrators, along with families and students who participate in events. During championship events, chocolate milk is being promoted through public service announcements, brochures and ticket stubs. The NSAA website features dairy sports nutrition tips and resources.
Nebraska Schools Benefit from Fuel Up to Play 60 Funding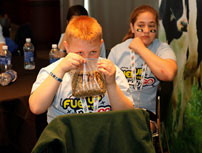 Fuel Up to Play 60, the partnership between the dairy checkoff and the National Football League to address child health and wellness, reached 903 schools in Nebraska. More than 319,000
students in those schools were able to access the program's resources.
By the summer of 2014, Midwest Dairy had contributed more than $394,000 over four years to Nebraska schools to enhance their Fuel Up to Play 60 work.
At the end of the 2013-14 school year, 25 Nebraska schools sent 204 students and 50 advisors to a Fuel Up to Play 60 Student Reward Summit, celebrating what they accomplished with the program. They earned an invitation by achieving Touchdown Status, completing six steps and involving students in the initiative.
Students at the Summit participated in a tour of the Training Table, where Husker student athletes eat, and then moved to physical activities on the field with Husker student athletes and later a game called Family Food. Melissa Konecky, a UNL student from a dairy farm family, brought feed for the students to smell and used photos to explain her family farm. The day ended with a presentation from Tommy Armstrong, the Husker quarterback, talking about staying healthy and getting daily physical activity.
School Officials Embrace Health and Wellness Efforts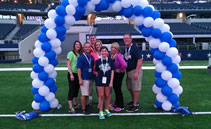 A Fuel Up to Play 60 Tailgate Celebration and program update for the Nebraska Academy of Family Physicians this year included Dr. John Skretta, superintendent with Norris Public Schools, and Dr. Bob Rauner with Partnership for a Healthy Lincoln. The two highlighted the importance of breakfast and the impact of physical activity integrated throughout the school day.
John Spatz, the executive director for the Nebraska Association of School Boards, was one of more than 400 thought leaders gathered in Dallas to attend GENYOUth's 2014 Nutrition + Physical Activity Learning Connection Summit II. GENYOUth is the foundation supporting Fuel Up to Play 60. Spatz identified a possible opportunity to facilitate a discussion between the National School Board Association and the GENYOUth Foundation. Spatz returned from the summit to share his passion and plans for Nebraska with several media outlets.
Present, Future Dietitians Receive Dairy Background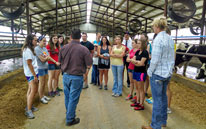 Midwest Dairy hosted future dietetic professionals from the University of Nebraska for a day on the farm in partnership with the Nebraska Beef Council. It included a stop at Prairieland Dairy near Firth. The tours were designed so that when these future dietetic professionals enter the field, they will be able to speak with confidence about dairy farm practices.
Meanwhile, 19 registered dietitians working in clinical, community and private practice settings participated in a training focusing on how to communicate ways for those with lactose intolerance to keep dairy foods in their diet. It covered common myths and misperceptions about lactose intolerance, including its prevalence, as well as simple strategies for patients to keep dairy foods in their diet.
National Partnerships Impact Nebraska Markets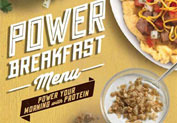 National partnerships of the dairy checkoff, with partners like McDonald's, Domino's, Pizza Hut and Taco Bell, helped grow dairy sales in Nebraska. While supporting dairy's impact at the state level, Midwest Dairy funding also supported these partnerships and extended efforts with the potential to specifically benefit Midwest product sales.
Nebraska has 89 McDonald's, 39 Taco Bell restaurants, 100 Pizza Hut locations and 22 Domino's Pizza outlets. Each one's menu has been influenced by both national and Midwest Dairy checkoff investments.
Health and Wellness Team Addresses Nutrition, Food Insecurity with Leaders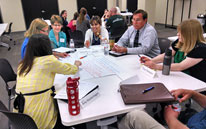 Midwest Dairy worked to create nutrition advocates through relationships with Nebraska health professionals, presentations and speakers at Nebraska gatherings of school and health organizations, and partnerships with those who share a goal of developing healthy people and communities.
Nebraska staff members also began facilitating discussions surrounding hunger, especially as it affects children, which can be partially solved through access to dairy foods.
Those events included working with the Food Bank for the Heartland and Hunger Free Heartland to host a roundtable event where thought leaders shared insight into the topic.
In June, Governor Dave Heinemann wrote and distributed a column encouraging people to provide milk to the hungry through the Great American Milk Drive, a national effort to bring fresh milk to food shelves on which the dairy checkoff is a partner.
Other efforts included:
Midwest Dairy was one of several community partners to participate in Get in the Action Day at Omaha South High School, hosted by Nebraska Action for Healthy Kids. Four other Omaha elementary schools received $250 grants to host a Get in the Action day.
An exhibit booth at the Nebraska Academy of Nutrition and Dietetics conference highlighted dairy farmers' commitment to food insecurity and called attention to the Great American Milk Drive.
Midwest Dairy was a partner in the Fuel Up with Color 5K Run and Kids Course in Lincoln that raised funds for nutrient-rich food donations to Nebraska food banks.
Efforts with Retailers Expand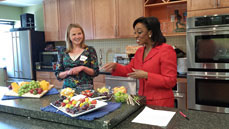 Midwest Dairy's work with retailers develops dairy advocates across the retail system and provides resources to help them communicate about dairy with their customers. One tool, the Academy for Retail Excellence, exposes them to dairy trends and science, and features an on-farm visit.
Hy-Vee, with stores in Omaha and Lincoln, and moving into central Nebraska, sent its employees to a Dairy Academy that included a presentation by Nebraska dairy farmer Mary Temme, and a visit to the Butler County Dairy Farm in Rising City, milking 6,000 cows. The chain's dietitians also attended communications training in Council Bluffs, designed to help them include dairy in their store and media activities.
Associated Wholesale Grocers, representing 90 stores in Nebraska, has accessed Midwest Dairy's social media content and engaged in plans for an Online Dairy Academy pilot. Midwest Dairy also expanded its relationship with Affiliated Foods, with 180 stores in Nebraska, through which Midwest Dairy was invited to participate in the chain's food show.
Breakfast Initiatives Help Move Dairy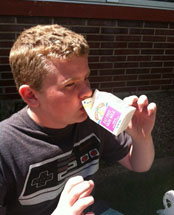 Growing school breakfast sales creates opportunity for dairy products. By helping to create the Nebraska Breakfast Challenge, and providing rewards and incentives to add breakfast programs across the state, the dairy product market grows. Nearly $73,000 has been provided to Nebraska schools in the last three years to support optimizing the use of dairy at school. Other groups, such as Share Our Strength and Hunger Free Heartland, built upon Midwest Dairy funds to support the Breakfast Challenge.
In a partnership with ConAgra Foods Foundation, Midwest Dairy helped the Omaha Public Schools to increase grab-and-go breakfast with a goal of including 30 schools. Neihardt Elementary in Omaha hosted an "It Starts with School Breakfast" campaign kickoff, serving free breakfast to students and community. After the breakfast, nearly 600 students and district staff attended an allschool assembly where Nebraska's first lady, Sally Ganem, talked about the importance of breakfast.
Nebraska Senator Bill Avery also invited Midwest Dairy to a state school superintendents meeting to address the issues surrounding school breakfast.
Consumer Confidence Efforts Vary Across Nebraska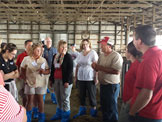 Midwest Dairy helped build affinity for dairy farmers and farm practices through dairy education at Omaha's Moo at the Zoo, the Nebraska State Fair, and other events and efforts impacting more than 400,000 people. Midwest Dairy also worked closely with University Extension, and on Ag Literacy and Day at the Farm programs aimed at several thousand elementary school children, as well as supporting the state's Ag in the Classroom program.
In a program sponsored by the Nebraska Department of Education, in cooperation with the dairy, beef, pork, corn and soybean checkoffs, 20 family and consumer science teachers from across Nebraska spent four days learning about production agriculture.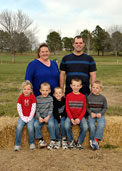 Through its participation in the Alliance for the Future of Agriculture in Nebraska, Midwest Dairy has placed periodic articles authored by dairy farm families in the Omaha and Lincoln papers. Jodi Cast, a dairy farmer from Beaver Crossing, and Brooke Engelman of Diller are among the women who participate in Midwest Dairy's Dairy Farm Mom Network and were featured in recent publications.
As part of dairy's national crisis plan, Midwest Dairy Association co-hosted the Midwest Region Crisis Drill in Minneapolis with invitations to several Nebraska dairy farmers and state officials. The drill centered on a food safety scenario and provided participants with a better understanding of the challenges involved in a crisis and improved our ability to communicate and coordinate with each other.